Welcome to My Montessori Curriculum for Children Ages 3-6
Hello! My name is Lisa Good.
For 30 years as a Montessori Primary Teacher I have been documenting my daily routine, photographing materials I make, classroom activities, materials, and the children. I have refined it all and developed it into My Cultural Curriculum for Ages 3-6.
The guide is for 40 weeks. That is 200 days of daily details on what to say, how to present lessons, what subjects to consider and how they build from previous lessons, and so many picture examples of materials you can make to compliment the Montessori method of teaching. This Cultural Curriculum can be used for 3 years as the child grows older.
You have a lot of work ahead of you, so let's get started!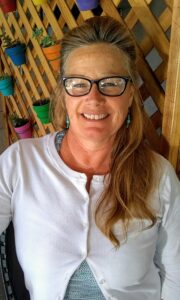 We have discontinued new Online Membership signups due to excessive maintenance requirements. The PDF version is still our strongest option.
Browse our examples
Take a look at the actual examples of our Cultural Curriculum below (You will find some FREE PDF downloads as a gift in Weeks 1 and 2). Remember, each day builds on the principles of the previous day, so best to start with Week 1 Lessons if you choose to buy. Or, buy all 40 weeks and have a three year curriculum for your 3-6-year-olds.


Get a head start on next year! Will you be in the classroom?
I love this time of year!
Preparing new materials or remaking those that needed a little attention? It's important to review Weeks 1-5 so you can prepare for all the lessons and activities.
If you would like to get ready for the first weeks of school, why not buy my Montessori Cultural Curriculum Weeks 1-5 so you can be prepared too!
Research the sample pages above to get an idea of what's provided. I tell you what lessons to present, what to say, books and songs to use, and give lots of picture examples of the materials you can make to start progressively building on principles.
Enjoy!
Movable Letters Interactive Lesson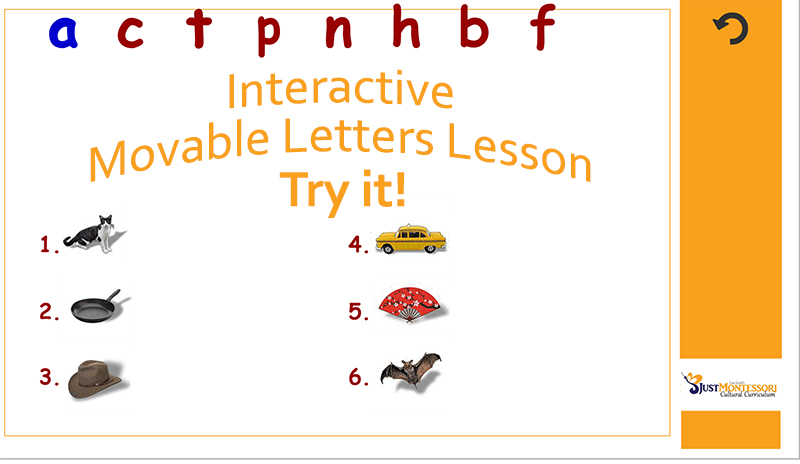 My husband made this interactive game to mimic the Movable Letters Lesson when I started teaching online. It is for 3-letter words. I hope he makes more… the children love it! (they're so smart now with tablets and such).
Show the children how:
Words must be spelled in order (numbers next to pictures indicate order, like 1, 2, 3…)
Drag the first letter of each word next to the picture to start spelling the word. (If the letter sticks in place, you know it's correct)
Once all the words are spelled correctly you can click the return arrow in the upper right corner of the game and all the letters will go back home.