Book choices for today:
I Know It's Autumn Ellen Spinelli
When Autumn Comes Robert Maass
A to Z Autumn Tracy Maurer
Count Down to Fall Fran Hawk
Fall is Here Frankie Jones
Fall is for Friends Suzy Spafford
Autumn Anna Claybourne
Fall Chris Demarest
From Bulb to Daffodil Ellen Weiss
What are Bulbs and Roots? Molly Alon
Science: (first circle)
Need for lesson – Signs of Autumn Card Set and Fall Tree coloring page.
Science 11

Very soon we will have a new season. What season will it be? Fall. Some people call Fall by another name, Autumn. Have you noticed any changes in the weather yet? What does the weather feel like in the Fall? The weather starts to get cooler. So this cooler time after a hot summer has two names. Fall and Autumn. It is called Fall because leaves start to fall of the trees. Berries and nuts fall off too. There is a special name for the kinds of trees that have leaves that change color and fall off. They are called Deciduous. Can you say "Deciduous"?

What kinds of things do people do in the Fall? (harvest gardens, wear warmer clothes) The animals are busy in the Fall also. Many animals get ready for the Winter in the Fall. They are busy hunting for berries, seeds, nuts, and other foods to hide so they can eat them during the cold winter when food is hard to find. Sometimes animals have to travel to different places where they can get food in the Winter. They have to change their homes in the Fall. Many birds that live where it gets very cold fly to warmer places for the Winter. They will come back in the Spring when it warms up and they can again find food. We call this migration.

Some animals like squirrels do not migrate but they find warmer places to live, like a hole in a tree. This is where they put some of the nuts they gathered to eat in the winter.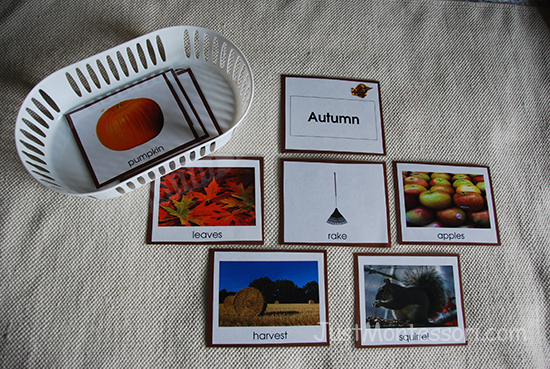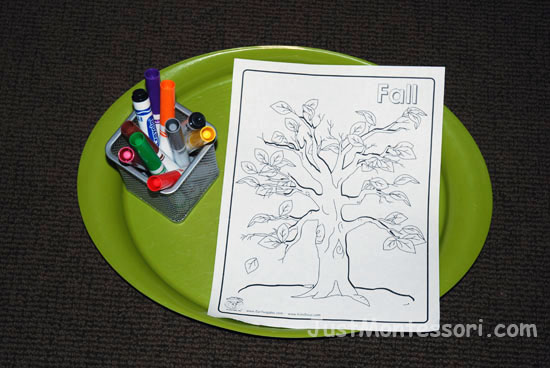 Art:
Fall Leaf Painting – Cut sponges into the shapes of leaves. Have red, orange, and yellow paint for children to dip sponges in and make leaf prints on green or white construction paper.
Marble Painting – Have pre-cut green leaf shapes out of construction paper. A shoe box or other container with a lip to fit paper in. Three marbles. Red, orange, and yellow paint that is watered down a little. Three small spoons or eye droppers. Marker or pencil. Children write their names on green leaf shape. Place it inside the box and then drop the colors of paint they would like onto the paper. Drop in the marbles and move the box so the marbles roll around and paint the leaves..
Fall Wreath – Children create wreaths with real or fake leaves.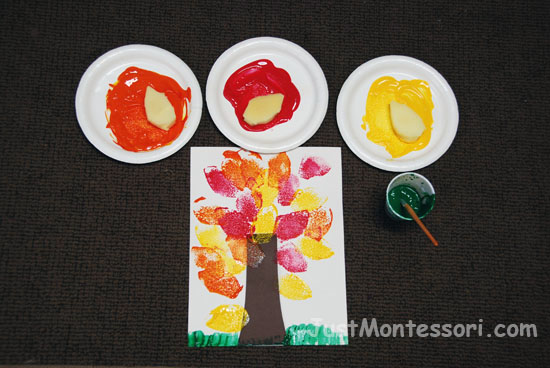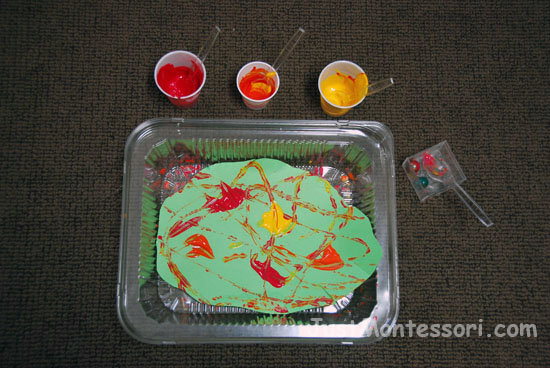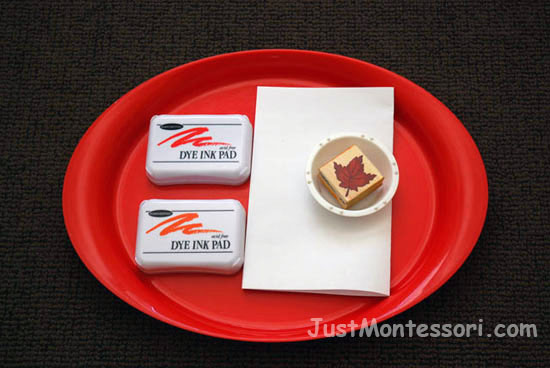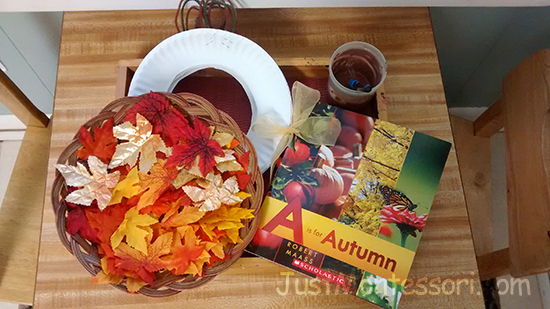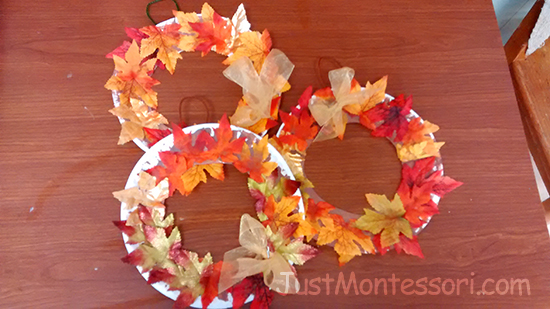 Additional Works:
Fall Sensory Tub
Leaf Matching – Make a matching or concentration game with fall leaf stickers. Use card stock and laminate.
Acorns 1-20 – On a tray or in a basket have acorn cut outs with the numbers 1-20 on them (kiddsoup.com), register tape, scissors, and a pencil. Children need to put numbered acorns in order 1-20. Roll out the register tape to the length of acorns and cut it. Copy the numbers onto the resister tape.
Leaves 1-10 – Children can count the leaves on each card and place it under correct number.
Fall Leaves Matching – These are postcards from New Hampshire. Just buy two sets and you have a matching work.
Fall Booklet – This is a booklet in the shape of a circle which is fun for the children. It is from enchantedlearning.com. The children count the Fall objects and write the number of objects on each page.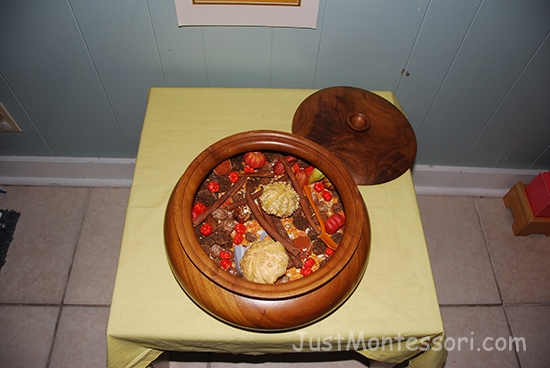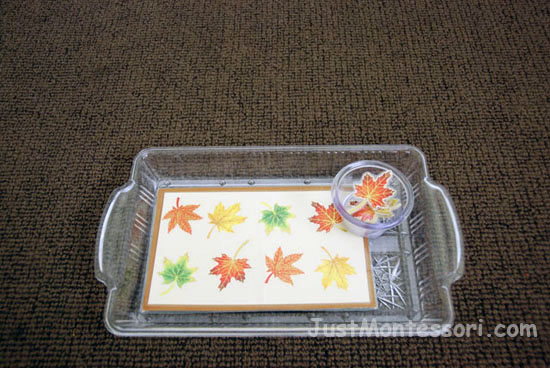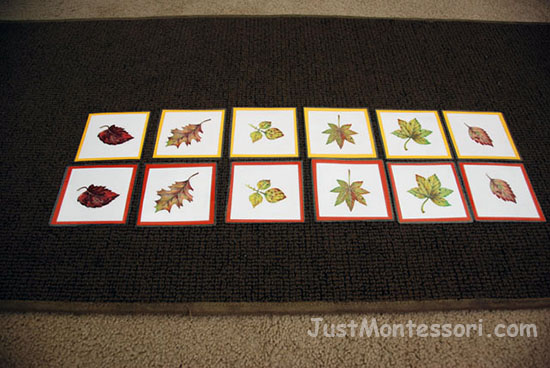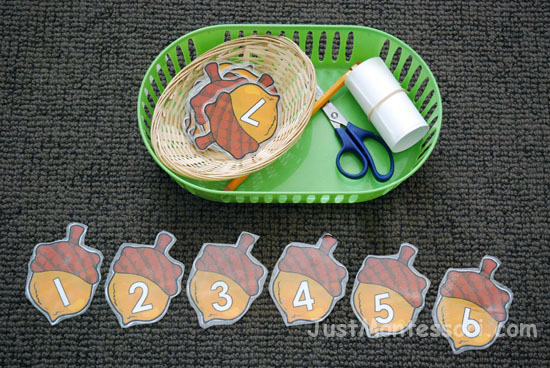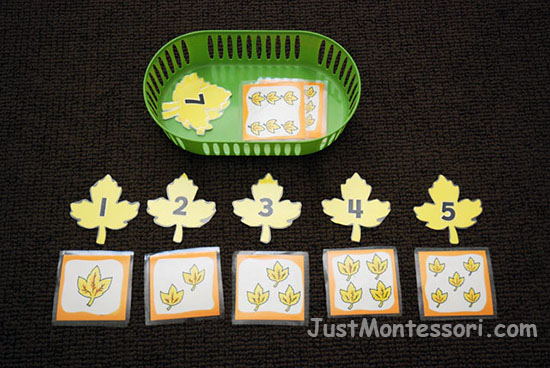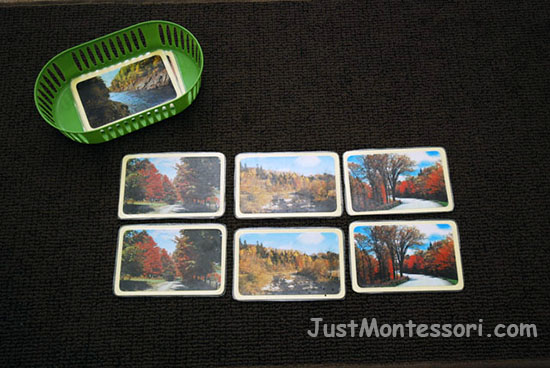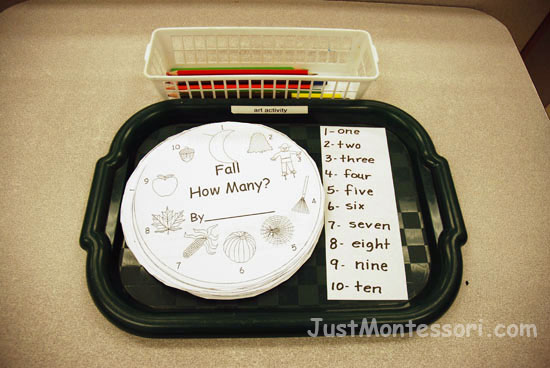 Practical Life:
Fall Flower Arranging
Transfer – Mini Tongs
Acorn Transfer – Tongs
Fall Tree – This was a wooden tree from a craft store that I painted and then added Velcro pieces to it and also on the back of leaves from the craft store.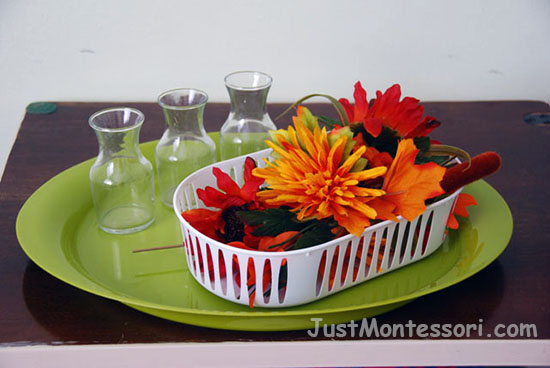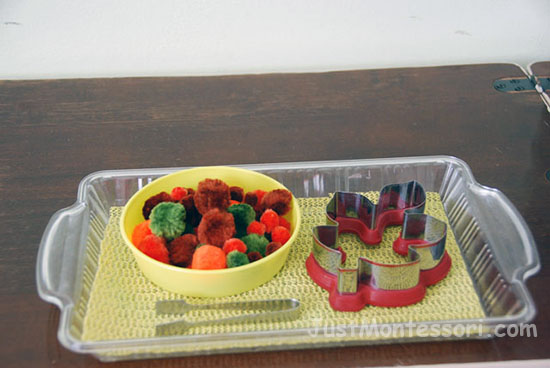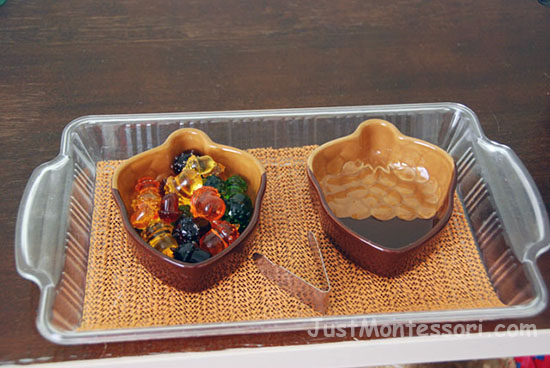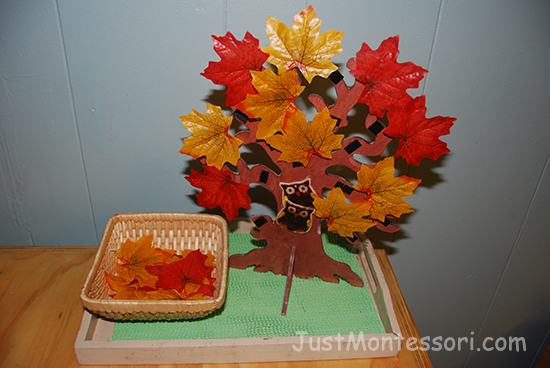 Songs/Poems:
Leaves on the Trees (tune – Wheels on the Bus)
The leaves on the trees turn orange and brown,
Orange and brown, orange and brown.
The leaves on the trees turn orange and brown,
All over town…

The leaves on the trees come tumbling down,
Tumbling down, tumbling down.
The leaves on the trees come tumbling down
All through the town…

The leaves on the ground go swish, swish, swish,
Swish, swish, swish, swish, swish, swish
The leaves on the ground go swish, swish, swish
All over town…
Leaves (tune – Did You Ever See a Lassie)
Have a basket of leaves and pass one out for each child to twirl their color leaf during the song
Did you ever see a tree, a tree, a tree,
Did you ever see a tree in the fall?

There are red leaves, and yellow leaves,
And orange leaves, and brown leaves,
Did you ever see a tree,
A tree in the fall?

The red leaves all fall down,
They swirl to the ground,
Did you ever see the wind blow
A tree in the fall?
(continue with each color leaf until all the children with their leaves have fallen to the ground)
Botany: (second circle)
Need for lesson – Samples of real bulbs, one per child to plant, and pictures of bulb flowers.
Botany 6

During autumn time some people like to plant bulbs. This is a bulb. A bulb is different than a seed. How? Remember we talked about how inside every seed there is tiny baby plant waiting to grow. As it grows we see the leaves and roots start to grow also. The seed may be that of a flower or fruit. But it has to grow and become that flower or fruit. Well, a bulb already has its parts inside. They just are not growing yet. Let's look at the parts of bulb. All the parts of the bulb flower are already in here, they are what we call dormant right now. That means they are not growing. It is when a plant has a time of rest. During this time of rest, or it being dormant is a good time to plant the bulbs so they can rest in the ground. They will stay like this all during the fall and winter season. When the air begins to warm up after winter, the bulbs will begin to grow. All its leaves and the flower that is in here (show bulb) will grow up out of the ground. They will grow up right out of the ground to make a beautiful flower garden.

We are going to each get one bulb to plant outside. We have to wait for them to grow for a long time. We won't see them come out of the ground until the calendar changes about 6 or 7 times! We have to be very patient for these flower bulbs to grow!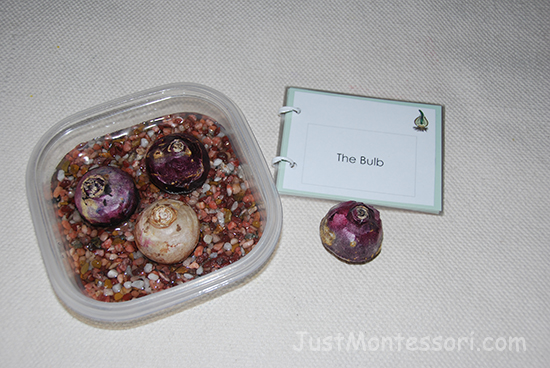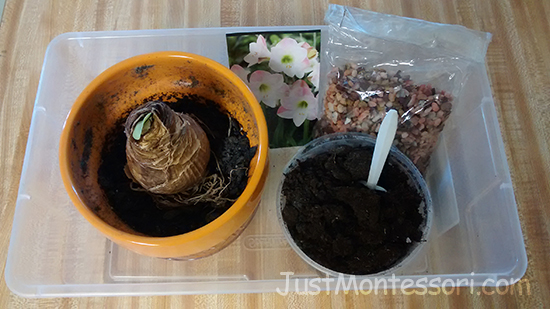 Art:
Bulb Flower Coloring
Hyacinth Flower Painting – Children can paint the stem and leaves and use a wine cork to dot paint the flowers along the stem.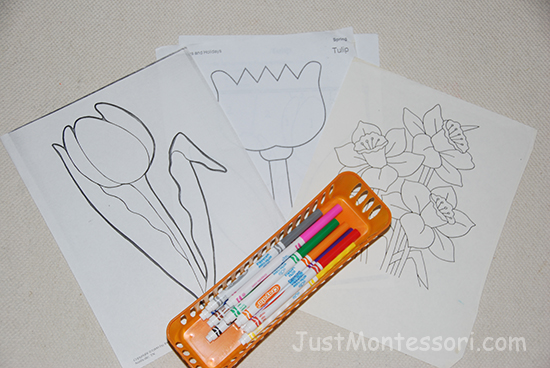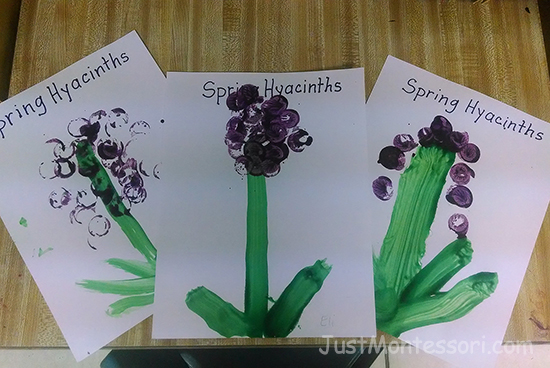 Song (CD) choices for today:
The Squirrel Small Motor Skills Macmillan
Fall Leaves Seasonal Songs Macmillan
Nutty Squirrels Seasonal Songs Macmillan
September Learning Through Music
Buy Weeks 1-5 PDF