Book choices for today:
Recycle That Fay Robinson
Too Much Trash Fay Robinson
Garbage Collectors Kim Lafave
Recycle Gail Gibbons
The Earth & I Frank Asch
Earth Day Trudi Strain Trueit
Earth Day Hooray Stuart J. Murphy
Earth Day Every Day Lisa Bullard
Earth Day: An Alphabet Book Gary Kowalski
Love Your World Dawn Sirett
Science: (first circle)
Need for lesson – Any Earth Day activities you would like to introduce. Pictures that show different ways to care for the Earth
Science 74

We want to talk about our Earth. We have learned many things about the Earth. What are some things you enjoy about the Earth we live on? It is important that we help to take care of the Earth. Earth Day is a day in which people are reminded to think about caring for the Earth. Some of the things we can do to take care of the earth is to recycle. Can you say recycle? What does it mean to recycle? When we take something and reuse it we are recycling it. We made binoculars with old toilet paper rolls recently. This was a way to recycle something into something else. Other things like plastic, glass, and cans also can be recycled to make other things. Paper can be recycled to make more paper. We found out that paper is from trees. If paper is recycled, it can help from cutting too many trees down. Why are trees important?

When you use a compost bin and recycle food scraps into and later put this compost mix into your garden you are helping to care for the earth. Planting a garden and trees is also a way to help the Earth.

What about your trash? Where do we need to put it? Some of it can be recycled and some needs to be thrown away. The more trash that is recycled the better for the earth. Let's say you have just a small piece of some trash, is it okay to just throw it on the ground, I mean it is only a small piece. Even small pieces of trash can make the Earth dirty. We want to do our best to keep it clean and beautiful.

What about water. How important is water? When you brush your teeth, is it best to leave the water running or turn it off while you are brushing? Turning it off helps to save water. We want to be aware of not wasting water. This is called conservation. Can you say conservation? When you are responsible and turn of the water you're helping to conserve water!

How about your clothes or shoes that do not fit you anymore? Should we just throw them in the trash? We can recycle clothes and shoes. Giving them to others is another way to help take care of the Earth. These are great ways to show that we want to help take care of the Earth. Can you think of anything else that is important to do?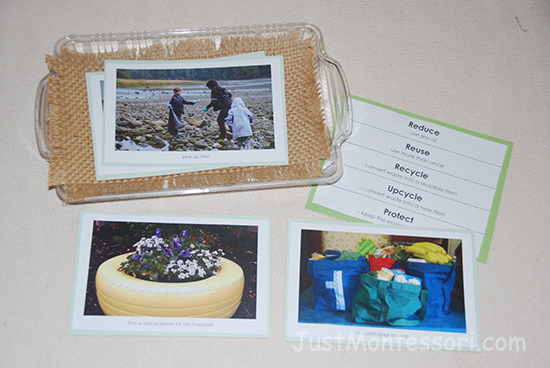 Additional Works:
Recycle Game – Children go around the board to help clean out the lake and recycle (kidssoup.com)
Egg Shells – Use egg shells to plant seeds in.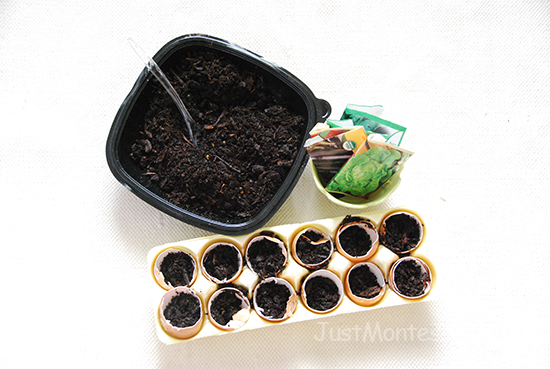 Art:
We Love Our Earth – Make posters that say "We Love Our Earth". Using a coffee filter and spray bottle paint, paint them blue and green. You can also use blue and green paint on a white circle shape to smooth out underneath a piece of plastic wrap.
Car Trash Bag – Using small brown paper bags, children can decorate them to use in the car for the trash to go.
Recycles Art Collage – Gather some materials such as toilet paper tubes, yarn, pieces of scrap paper, etc.and allow the children to create something new with the items to be recycled.
Earth Necklaces – Children color a hemisphere map with green and blue markers, cut the hemispheres out, glue some cotton in the middle, and glue them together to make necklaces with.
Clay Earth Necklaces – I made these from a flour dough recipe and baked them. I then prepared them with beads and a ribbon for the children to paint.
Tissue Paper Earth and Painting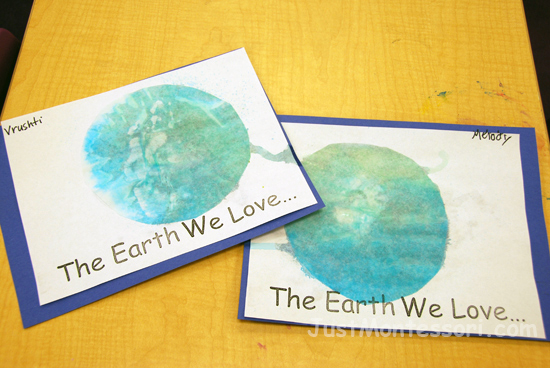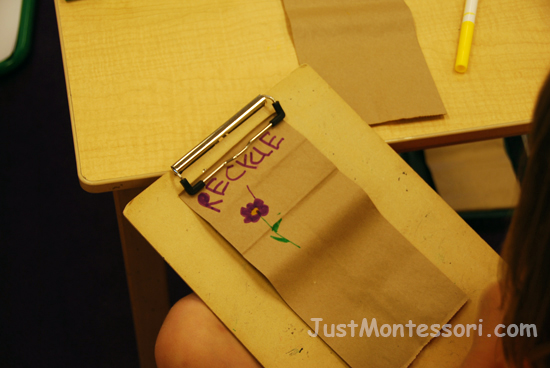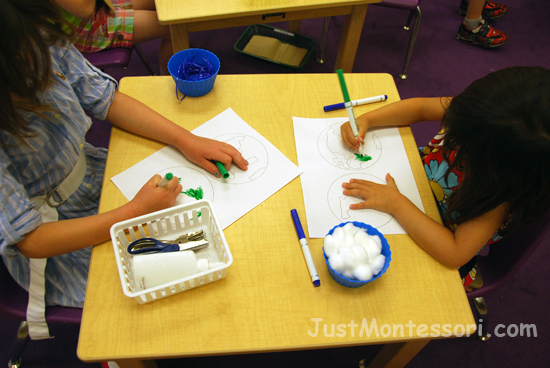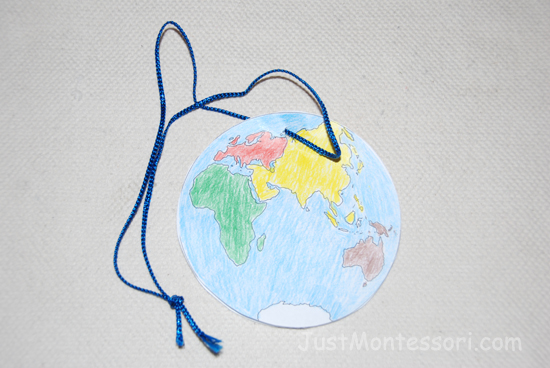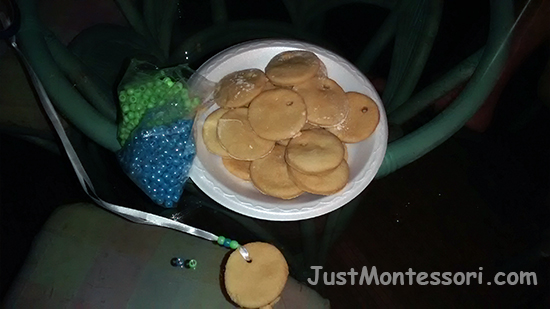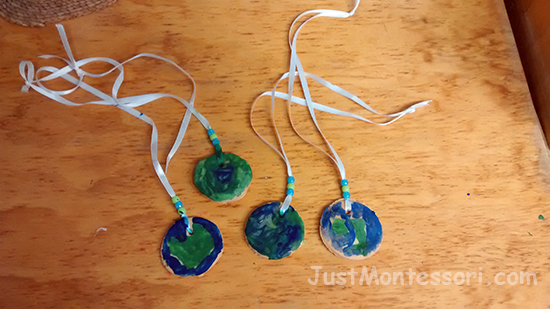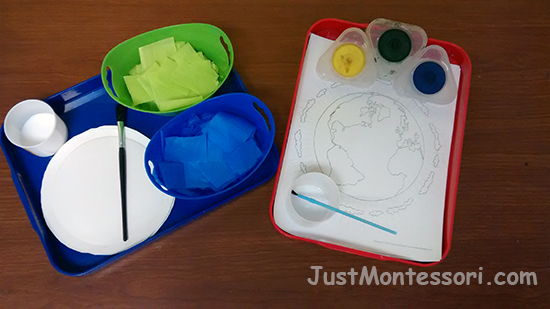 Snack:
Worms in the Dirt – Cake mix with frosting and worms.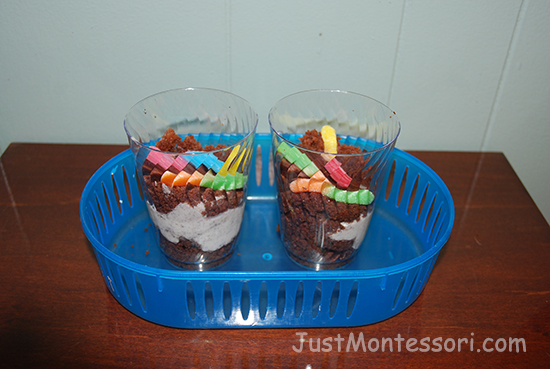 Songs/Poems:
Earth Day tune – Mary Had a Little Lamb
Plant a seed and you will see, you will see, you will see,
Plant a seed and you will see, what a beautiful world it can be.
Help us to recycle things, recycle things, recycle things,
What a beautiful world it brings.
Put your trash where it belongs, where it belongs, where it belongs,
Put your trash where it belongs, and the world stays beautiful for long.
Earth Day tune – Twinkle Little Star
Earth Day, Earth Day, comes once a year,
But we should make the message clear.
Love and clean our Earth each day,
Make that plan, a plan to stay.
Earth Day, Earth day, comes once a year
Love and care for the Earth so dear!
Science: (Second Circle)
Need for lesson – Natural Resources Card Set
Talk with the children about what a natural resource is. Use the cards during your discussion.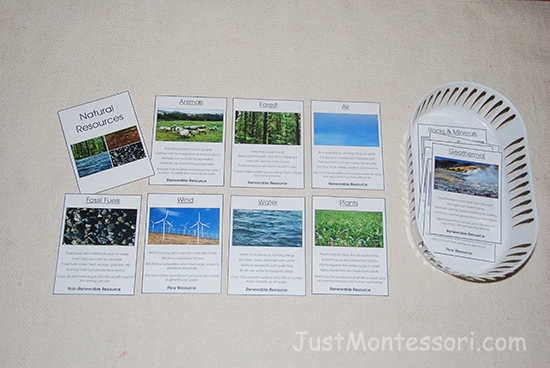 Additional Work:
Story and Planting – Read the book, Love Your World, and let the children plant seeds.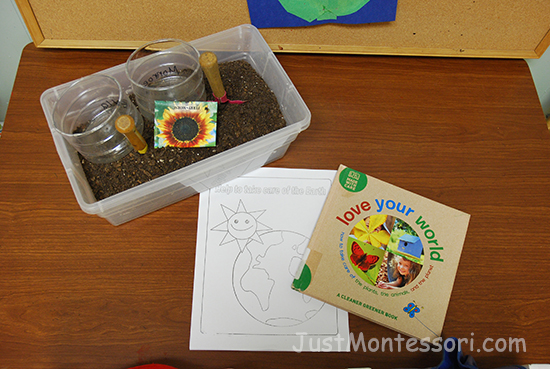 Songs/Poems:
Tree
I'm a young, tiny tree.
I want to be all that I can be.
I need sun, water
And fresh clean air.
When I grow up big
I will do my share.
But while I am little
I need tender care-
Be good to me.
Tree
I'm a tall, grown-up tree.
I'm very proud, as you can see.
I'll give you shade
On a summer day
And places for squirrels
And birds to stay
And limbs good for climbing,
So come here and play-
Come play on me.
Song (CD) choices for today:
Clean Up Kangaroo Our Earth – Macmillan
Big Beautiful Planet Raffi
Buy Weeks 31-34 PDF