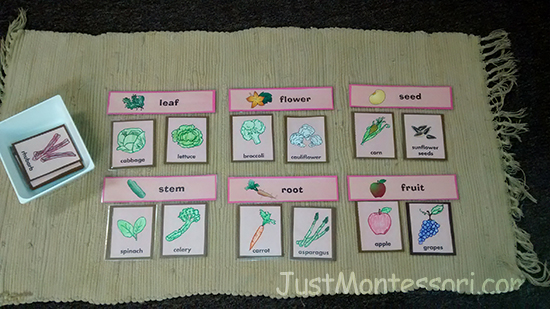 This past week we looked at vegetables. We discovered that when we eat vegetables, we are eating a part of the plant. We discuss many things that allow the children to make a connection between what they see and eat and its parts. We talk about it like this…
We eat other vegetables that are the leaf part of a plant. This spinach is the leaf, that we eat. Lettuce and cabbage are other leaf parts that we eat. Corn, peas, and peanuts are examples of the seed part of a plant that we eat. Now tricky vegetables are broccoli and cauliflower. These are the flower parts of the plant. While one child will choose the topic work for the day, the other children choose those works on the shelves that interest them. This could be math, geography, science, etc.
Following are some pictures of the works some children chose for this day. Notice the age ranges of the mixed classroom and the complexity or simplicity of their choices.